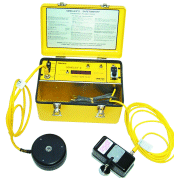 OSHA uses our Safetimeter...shouldn't you?

GEMCOs newly designed Semelex II Safetimeter Test Set is field proven to accurately measure press stop time and safety distance to verify compliance with federal and state requirements. Designed for harsh industrial environments, the unit is portable, light weight, easy to use and incorporates new and improved features.

AutomationStock can supply a complete Series 1999 Semelex II Safetimeter Test Set Including: Meter, Position/Velocity Transducer with Cable Extension Set, Auto-Hand with Auto-Flag, Legs, Plunger Extension and Operations Manual.