AC890 Drive


1.5 to 1681A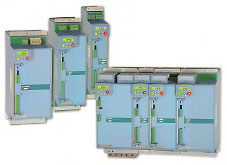 AC890 System Drives can control everything from induction motors to servo motors. AC890 provides V/F, sensorless vector, closed-loop flux vector and servo position control; from simple AC motor control sections to more demanding sections. The AC890 comes in a wide variety of sizes and ratings and input and output types, making it the right solution for virtually any motion control project.
5-Mode Frequency Converter:
V/F, Sensorless Vector, Flux Vector, Servo Drive, Line Regenerative (AFE)
Built-in EMC Filters
2 Performance Levels (Advanced and High Performance)
EN954-1 CAT. 3 Certified Optional Safe Stop
COMMS Options Available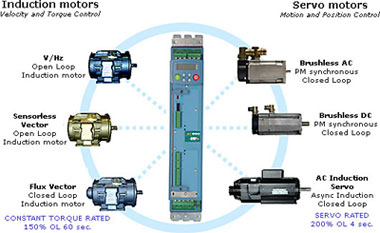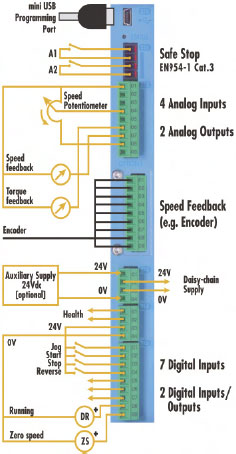 890CD/890SD Control Board
Programming Port USB
Torque and Speed Analog Outputs
Health Contact
24Vdc Control Supply - Programming without Power Supply
Digital I/O
Motor Thermistor Input
Running and Zero Speed Signal Output
Performance Levels
AC890 frequency converters offer the level of performance that best suits your application needs. With 2 different performance levels, AC890 system allows the maximum flexibility of use.
Advanced Performance
Basic LINK VM function blocks: math functions, Boolean logic, timers, counters, One shots, threshold comparators, latches, plus: motion control firmware with added position loop, motion control function blocks, move incremental, move absolute, move home, line drive master ramp and section control, winder blocks (SPW, CPW), full function PID, state machine, and others.


High Performance
All Advanced Performance features, plus: Library of pre-engineered application specific LINK VM function blocks such as: shaftless printing, cut-to-length, precision winding, traversing, and others.
Shaftless Registration Control Solutions for Printing
Mechanical line shafts for printing are easily replaced with individual AC890 drives, capable of precise synchronization and printing registration adjustment to each section, guaranteeing perfect alignment of each color. AC890 High Performance Level features a library of pre-engineered application specific LINK VM function blocks, including shaftless printing, cut-to-length, precision winding, traversing, and others.
FireWire protocol (IEEE1394) ensures data synchronization for the printing register control.
125µS Cycle time
Time Synchronization
Deterministic Network
Active Front End: Line Regenerative Systems
Common Bus Drive sections can also be configured as Active-Front-End Input Sections, providing true lineregenerative 4-quadrant control with no harmonics and 1.0 power factor.
Requirements
Pre-charging Circuit
LCL Filter
Performance
Fully Bidirectional Power Flow
Overload 150% for 60 secs
Sinusoidal Input Current
Complies with IEEE 519
Larger AC890 systems can be matched with separate higher power Active Front End units. Multiple rows of AC890 Common Bus Drives are bridged together using Common Bus Adapter modules.

890 Series CS/CD
890 Series CS/CD units provide a common bus solution for multi-section drive applications. Multiple 890 Series CD Common Bus Drive inverter sections can be combined with a single 890 Series CS Common Bus supply unit, achieving substantial space savings and peripheral component savings within the enclosure. Additional 890 Series CS supply units may be paralleled to provide greater DC bus supply amperage.
How to Pick a CS
Select the 890CD (common-bus drives), one for each section.
Select the 890CS (common-bus supply) module by adding the HP (or currents) of all the CD drives.
Select a reactor and braking resistor kit
Order the common bus bar and exhaust duct kit from the options section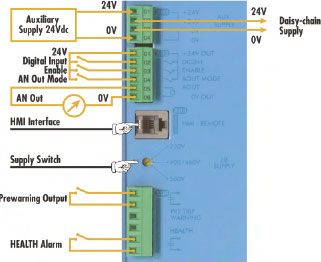 890CS Power Supply Unit
up to 162A
Power Supply 208–500VAC
Built-in Dynamic Braking Unit
DC BUS Supply Output
Diagnostic Operator Panel
890CS Control Board
24Vdc Supply Control
HMI Interface Connection
Three-phase Supply Selector
Configurable Analog Output
Prewarning Output
Alarm Output
Contact Us
Automation Stock / Rome Electric
36 Westside Industrial Blvd.
Rome, GA 30165
Phone:706-413-1560
Fax: 706-232-2071
Email: sales@automationstock.com

See Also: