Overview
DC drives are widely used in applications that require
regeneration, precise speed control, dynamic performance, and constant torque over wide speed ranges.The Mentor II
delivers the universal DC drive solution.

Simple stand-alone applications are easily configured to control motor speed, voltage or current using standard internal settings. Set-up is convenient using the drive keypad, CTKP remote keypad, or MentorSoft, a Windows™ based drive configuration tool.The Mentor II has extensive diagnostic and communication abilities that enhance system reliability.The drive's standard yet powerful microprocessor is a versatile system component that can eliminate the need for a PLC with integral functions such as thresholds, timers and logic gates that perform basic control.

The simple addition of the MD29, a 32-bit application
co-processor card, provides high performance drive systems
with local intelligence for true distributed control.The MD29
enables users to incorporate custom or proprietary process
control application programs to their drive.The Mentor II also
provides a wide range of communication protocol options.
Mentor II systems have proven to be extremely reliable and
are ideally suited to web handling, winders, slitters, extruders, wire drawing, converting lines, and plastics production.The Mentor II's integrated design and highly programmable features make it an ideal choice for OEMs and System Integrators, as well as replacement or retrofit drives for End Users.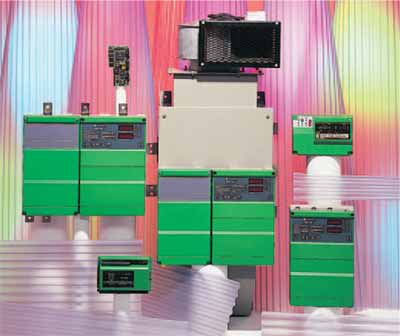 Typical Application
Microprocessor based Digital DC Drive
5.5 to 750 kW, 3 phase, 208 to 660 VAC
Regenerative and non-regenerative models
RS485 serial communications
Extensive fieldbus communication capabilities
Plug-in 32-bit application co-processor card
(MD29 and MD29AN)
MentorSoft Windows-based